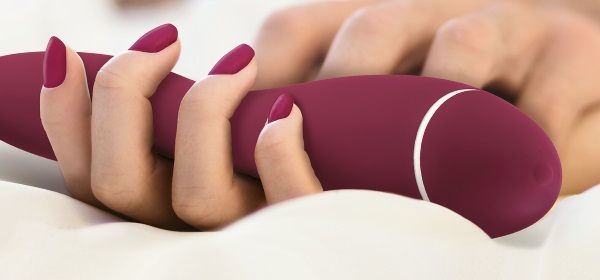 Back in the old days, women used to use all sorts of household objects to masturbate with – things like cucumbers or bananas, or even hairbrushes. But today, women don't need to rely on such primitive objects, thanks to the rapid rise of sex toys in today's society. There are sex toys of all shapes and sizes, for both men and women. However, there is one particular type of sex toy that I have absolutely fallen in love with over the years and that is the vibrator. If you're curious about vibrators, keep reading and let me show you just how much you are missing.
First of all: what are vibrators? To put it simply, they are objects (typically in a phallic shape) that vibrate and stimulate yourself in a sexual manner. Compared to other sex toys, vibrators are in a class of their own simply because they do something is literally impossible to emulate using more natural means: vibrate! The vibrations that these sex toys produce are so unique and result in very pleasurable sensations overall. The very act of pressing the vibrator against your womanhood for the first time will bring a rush throughout your body. It is literally unlike anything you have probably ever felt before.
And the great thing about vibrators is that there is more than one type of vibrator out there. There are long vibrators, short vibrators, vibrators that are shaped like eggs or bullets, and even vibrators that are meant to go up your butt for anal vibrations! So even if one type of vibrator doesn't suit you personally, you don't have to worry, as there are plenty of other vibrators that can tickle your fancy. I don't want to go into all the details on the various types of vibrators, but if you'd like a crash course, one of the best articles from sex toy company Blissful Cherry goes over precisely that, and is definitely a great read. Overall though, all vibrators types are pretty damn amazing at what they do, making it worthwhile to have multiple vibrators, each with their own unique sensations. This way, you can always mix up the type of vibrator action you get with every masturbation session.
I remember the first time I used a vibrator, back in my college dorm room. It was a neon blue rabbit vibrator, and as soon as I made contact with my pussy, my eyes lit up. Not only was I surprised at how powerful it was, but I was perhaps more surprised at how pleasurable the vibrations were. The first thing I thought was just "wow, this feels amazing!" and then soon after thought: "why have I never tried this before?"
And from that very first time using a vibrator, I was hooked. I couldn't get enough of it. Using the vibrator was basically my one-way ticket to orgasm, something I can't always count on when having real sex with a guy. And while a real man's penis is nothing to sneeze at, they can't vibrate and create that amazing pleasure sensation that vibrators are capable of. Not in a million years. Plus, with a vibrator, I can really get away with not doing any work whatsoever. With a guy, I have to at least put a little effort getting into different sex positions and exerting some physical energy to make the sex pleasing not just for myself but for him as well. But with vibrators, I can just lie in bed, turn on the vibrations and take my trip to O-town almost effortlessly.
However, don't start thinking that vibrators are only to be used in my own private company. The fact of the matter is that I also love using vibrators to make sex better as well. Think about it – sex with a guy (or girl) is still great, and using a vibrator is also great. So why wouldn't I try to put the two together to create an even more amazing sexual experience than either one could give me on its own? They both have their own qualities that are exclusive to the other. A real dick is warm and soft, and brings with it the intimacy and emotions of being with another man. And a vibrator is just an amazing sex toy that adds vibrations into the mix. Combine the two together and it is a guaranteed recipe for success! And for women who aren't big fans of anal sex, don't worry – you don't need to incorporate anal sex if you want to get your vibrator involved. There are plenty of other ways to incorporate both a real penis and a vibrator into sex. Just use your imagination and you'll figure it out (worst case just alternate between penis and vibrator)!
Hopefully I was able to open your eyes and show you just how amazing vibrators truly are. Their unique ability to vibrate will almost guarantee an orgasm, and because such vibrating sensations can't be replicated by anything else, they are in a class all on their own when compared to other sex toys available today. And they aren't just for masturbation either, readily available to improve your sex life significantly if you so choose. If you've ever used a vibrator before, I am very confident that you are already hooked and don't need me to convince you of anything you don't already know. But if you are new to the world of vibrators, the only thing left I can say is to simply try it out and see how great they are for yourself!