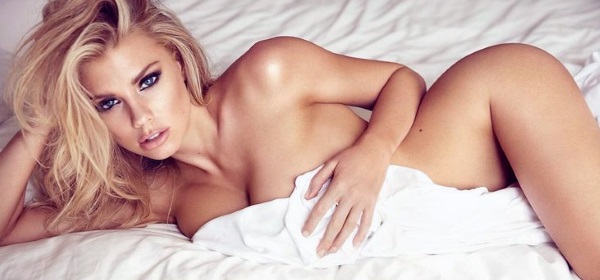 The general theme of nudity is something that I get quite a few emails about by women on this site, and so I feel the need to talk about it in further detail here. While plenty of women love sex, not all of them love having it in full nudity. Some of these women are self-conscious or have other reasons for doing so, but many also just don't realize how great being fully naked for sex can truly be. So today I'm here to discuss everything about having sex in full nudity!
To start off, I find my removing clothing and exposing your body in all its glory is the only way to truly appreciate the sex that is to come. For example, I can get extremely turned on just by seeing a handsome, fit man in a tight shirt with his muscles bulging out underneath, and his ass clearly defined through his tight jeans. But unless they are fully naked, I won't be as turned on actually having sex with them. And the same goes with women – they can expose their cleavage and where a tight mini skirt, but something just doesn't feel right eating them out while their bra is still on, or penetrating them with my fingers or other by moving their panties aside.
While sex is often an emotional experience, at its core it is always a physical one first and foremost. And with that in mind, I always want to take on my partner's physical beauty in the fullest form, and also allow them to take on my body without clothes obstructing the magnificent view. Even random hookups need to end up with all of our clothing off in order for me to enjoy it to the fullest.
However, there are a few reasons why women (and some men) may be concerned with exposing their full body to their partner during sex. However, these reasons are weak and should not be used as excuses, as I will explain why now. The biggest issue that woman have is that they are ashamed of their bodies. While a lot of that stems from a confidence and self-esteem issue that definitely won't be solved by me telling you to shake it off, what I can say is that men love your bodies. Every inch of it. No matter what your nipples look like, or how much fat you may have around your body, men will always turn it into a positive.
And it's not just them trying to boost your self-esteem – they actually will get turned on by anything and everything you expose to them. You got a cleanly shaven pussy? Hot. Got a hairy bush? Hot as well. Basically, if you are at the point where they want to have sex with you, then you have nothing to worry about – they will want you and embrace your body completely.
Another reason for women who prefer to keep their clothes on during sex is because of all the sweat and body odor that they may generate as a result, and how they perceive it to be the complete opposite of sexy. But that couldn't be further from the truth. From a purely physical standpoint, men love women who are going all out and enjoying every minute of the encounter. And working up a sweat shows them that you are fully engaged in the moment and loving every minute of it. And just as relevant is the fact that if you are working up a sweat, there is no doubt that he will have been working up an even bigger sweat. Because let's be honest – men do a lot of the work when it comes to sex!
Now if you aren't fully comfortable going full nude with your partner, there are a couple of options you can take to work around it slightly. For example, you can make use of bedsheets to your advantage, to help not only cover parts of your body to varying extents, but also to help let your perspiration collect somewhere other than on your skin. Another option for particularly self-conscious women is having sex under dim lighting, if not completely in the dark. This allows your body to be all for the taking by your man, without exposing it fully from a visual standpoint. But he can still touch and play with every inch of you, albeit without seeing it completely. Again, these techniques are not recommended by me, as exposing your full body to your partner without any obstruction is the most sexually liberating experience possible. But if you need time to adjust to such nudity, these alternatives are great in the meantime.
So there you have it – my thoughts and feelings towards nudity during sex. Although wearing some underwear and other pieces of clothing is perfectly acceptable during foreplay, I always make it a point to have both myself and my partner completely naked for actual sex, simply because it's the only way to truly appreciate each other's physical attributes and therefore have the most fulfilling sex possible. And while there are a few ways to build up to eventually going full nude like using bed sheets or lighting to hide your body slightly, the end goal should always be embracing your sexuality and being proud of your naked body. Trust me when I say that once you get there, it will feel truly liberating!