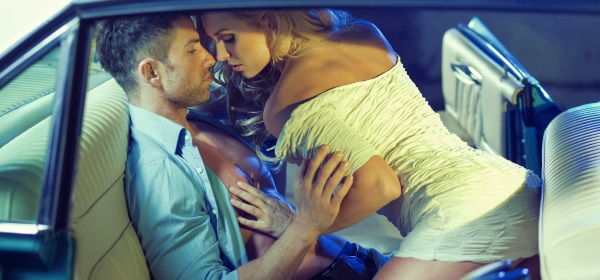 For many horny teenagers, having sex in the car is fairly common. However, contrary to popular belief, car sex isn't limited to teenagers who don't have places of their own, but even adults as well. I know this because I personally went through a string of car hookups over the course of a few months after I graduated from college. I'll detail my experience below, hopefully helping anyone interested in car sex in the future (out of necessity or just out of the desire to try something new) some insight.
A few months after I had graduated college and started working, I met this dude on Tinder, named Kyle. Super awesome dude and we totally hit it off. But when the time came to actually hook up, we realized that neither of us had an adequate bedroom. My room was part of a shared house with a conservative Chinese couple, and they strictly prohibited guests of any time. And his room was part of a shared apartment with three other roommates. The walls there were also supposedly very thin, and I decided that I didn't want to have sex where all his friends could hear me moan and scream at the top of lungs.
However, he did have a very nice Chevy Silverado. So we did it in his car. Multiple times over the course of four months. What I loved right from the start was the high level of privacy allowed by having our own private space to have sex in. We obviously only did this after the sun went down, but his tinted windows in the backseat really helped to ensure that literally nobody could see what we were doing. Plus, there were plenty of places to park and get it on without having anyone walk past and hear anything. We originally started out having sex in a public park near my house, but quickly realized that it looked super sketchy having a random car still at the park in the middle of the night. Eventually we discovered the ideal parking spot for car sex: supermarket parking lots. Not only are these parking lots extremely spacious, but the supermarkets and therefore the parking lots are open all day. We could literally park ourselves in the corner of the parking lot, away from everybody else, without seeming suspicious at all. It was the perfect setup!
Now in terms of the sex itself – it was definitely different. To start off, the size of the car and the fact that there is much less space to work with leads to a limited amount of sexual positions that can be used. And even the sex positions that can be used are severely limited in terms of body positioning. This list from Complex of various car sex positions should give you a pretty good idea not just how few sex positions are actually remotely feasible, but also the inherent complications that come with having sex in such a tight space. In our case for example, we were still able to have sex in the cowgirl position, but it only worked if he was sitting up in the backseat rather than laying down completely which is more typical of that position. And I (and to a certain extent Kyle as well) had to make sure that I didn't bang my head on the roof of the car while riding him.
The close proximity also leads to a unique emotional experience depending on how well you know each other. For example, when I first started having sex with Kyle, it was extremely awkward because there was no room to be anywhere else but pressed right against him. Using the sitting cowgirl position as an example, our bodies were literally millimeters away from each other, if not outright touching each other. Not only do you end up smelling all of your partner's various scents (good and bad), you also end up literally rubbing up against their sweaty bodies once enough time has passed, which can definitely be awkward. I mean who wants to get all up close and personal with a random hookup like that?
However, once you become even slightly more comfortable with the person, being so close to the other person from a physical standpoint can make the sex a lot more intimate. Instead of awkward hand placement during sex, you end up embracing each other and the physical closeness makes the sex even hotter. It took me about three or four times having sex in his car before I actually loved riding on his dick while he wrapped his arms around me in a caring embrace. And all that sweat that was previously awkward if not outright disgusting suddenly becomes so hot.
Overall, the car sex I had with Kyle over those many months (before he eventually moved to Florida) grew from an awkward experience that was driven primarily out of my strong desire to finally have sex again (I hadn't had sex in quite a long time before I met him) to one that I fully embraced and enjoyed. Now I'm not trying to pretend that car sex is suddenly this amazing thing on par with sex in a nice bed. But sex in a car combines a lot of great elements: you can ensure yourself total privacy, you can get really close and intimate with them (assuming you know them well enough), and just the idea of car sex can be a kinky experience. So whether or not car sex option is your only chance to have sex, it is honestly not a bad option to go with!