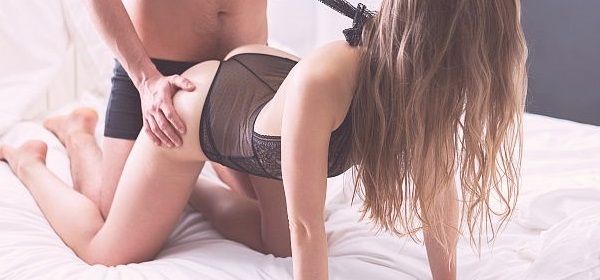 Unless you live under a rock, you probably know that there are many different types of sex positions, each with their own advantages and disadvantages. One of the most popular sex positions for women, at least from a pleasure standpoint, is doggy style. There is nothing like straight up taking it from behind and getting "railed" by your partner like primal animals. But with such an amazing sex position, it is important to make sure you are getting the most out of it. And that's why today I'm here to help provide my tips on how to make doggy style the absolute best for both you and your partner.
First things first: doggy style is great for deep vaginal penetration. In case you didn't know that, well now you know! In fact, it is one of the best positions to help women orgasm. And with so few women able to have orgasms through vaginal penetration, taking advantage of this sex position to actually achieve such an orgasm should never be overlooked. Most couples finish with doggy style for this very reason, with other sex positions building up to this one, at which point hopefully the woman can climax!
But doggy style is not just loved by women, but by men as well. In fact men are usually even more enthusiastic about doggy style than women overall, and there are a couple of psychological reasons why. First off, it is more about the sex and less about the intimacy. When guys want to be intimate, there are plenty of sex positions that put you and him in closer proximity, or at the very least have you facing each other. But when it comes to just the act of sex itself, it's hard to beat doggy style. In addition, men love booties (and I think most of them actually like them more than breasts). So what could be more arousing having sex with a woman and seeing her plump and perfect ass banging against their pelvis with every thrust? Not much – unless they are more of a breasts guy, in which case cowgirl is probably their favorite position. So being a master of (or at least enthusiastic about) doggy style will make a big difference in how your partner sees you from a sexual point of view.
But what more is there to do other than to take his dick from behind like a champ? Plenty! To start, make sure to arch your back as much as possible. This is not only a generally sexy position, but can also help angle your vagina for amazing penetration. Again, with a better angle, you get deeper and more pleasurable penetrations, leading to better sex overall, hopefully culminating in orgasm! In addition, arching your back is a great way to emphasize that booty that men love so much. In fact, instead of focusing on just trying to arch your back, you should also be actively trying to stick your booty out as well. A pronounced booty to go along with an extremely arched back will make your man go wild every time.
Another tip for doggy style is to utilize a subtle variation of the position in which you rest your upper body down right onto the bed (or floor or whatever), rather than resting on your hands or even on your elbows. The main reason people do this variation is because it helps create a better penetration angle for your partner. In most cases their penis will hit along your vaginal walls more than if they were entering at a more direct angle such as in your typical doggy style position. Note that you can still arch your back to a certain extent while keeping your head on the bed, and in fact combining the two is the perfect way to maximize sexual pleasure. Plus, putting your upper body down without using your arms helps to emphasize the dominant-submissive dynamic even further, simply because in this altered position you are physically unable to do anything with your body except take his dick. He ends up with total control over you, which most guys typically love.
And my last time for amazing doggy style is this: moan loudly and generously. Doggy style is typically known as the sex position that derives a lot of sexual pleasure, so most women should already be moaning heavily in this position. However, if you are typically a quieter girl, or even those who moan loud enough as is: there is never such a thing as too loud. Keep your moaning naturally, but just let loose and let the pure sexual pleasure take control.
Taking all this into account, in order to have amazing doggy style sex, you should always make sure that your back is arched and your booty is pushed out as much as possible, not just to help create more pleasure with each thrust, but also to turn on your man with your sexy body. If you really want to go the extra mile, you can even rest your upper body on the bed, leaving him with full control to dominate you and "rail" you with deepest penetrations imaginable. And last, but not least, always moan as loud as possible (without sounding unnatural). Do all these things, and I promise you that neither you nor your partner will have any complaints about doggy style!