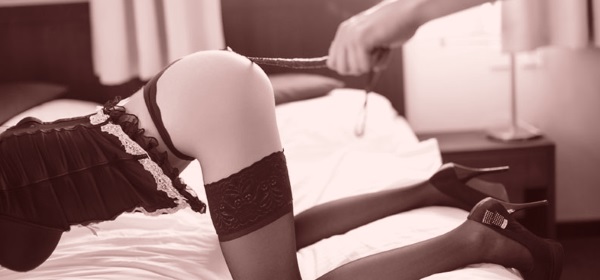 Have you ever watched porn and seen girls asking guys to spank them, wondering just what exactly was so great about spanking? If so, you were in the same boat as me. Even if you've tried letting your partner spank you in bed personally, it still probably didn't make sense to you why spanking is so prominent in the world of sex. However, I am here to save the day and explain everything I know about spanking.
Spanking on the surface just looks like something that makes your bottom sore and red, with no sexual pleasure whatsoever. But there is more to it than that. To start off, spanking is an extremely beautiful sight – depending on the angle and how hard you are spanked, your booty can jiggle quite a lot, which just from the visual standpoint is typically a turn-on for your partner. Even though both men and women have butts, because women typically have less muscle and more body fat, such a jiggling sensation is more commonly associated with women. And so seeing such a woman's butt being spanked and jiggle emphasizes your womanly features.
The submissive role of a woman is also on full display when being spanked. On the surface, spanking someone is a way of asserting dominance, if not outright punishing them (we all know this because when we were growing up, we associated spankings to being punished by our parents). Whether or not you are asking to be spanked, the very act of having your partner spank you gives them a sense of dominance. This sort of dominance is so prevalent throughout porn in general, training our brains to think about sex in this sort of male dominating female way, at least in the back of our minds. Spanking simply brings that mindset front and center, if just for a moment, turning us on further in anticipation of more truly dominant sexual acts (think doggy-style or other positions where the man is in full control).
Alright, so that's all fine and dandy, but many of you probably still aren't convinced that spanking is for you personally. Which is totally understandable, because from your perspective, spanking is still just a painful activity that isn't worth the pleasure that it derives specifically for your partner. However, the reality is that spanking, when done properly can actually cause outright sexual pleasure? Well it's true, and I only found this out after recently meeting someone who was really into spanking. He showed me what I was truly missing, and I'm here to pass that knowledge on to you!
To start off, the spanks do need to be nice and firm, if not downright painful. Lightly spanking your butt can be fun and playful, but it won't provide much in terms of actual sexual pleasure compared to a firm spank that ideally causes you to whimper out of (slight) pain. Once you are spanked like this, you will recognize that there is a lingering tingling sensation that lasts well after the spank. And with enough spanking in succession, that tingling sensation will be impossible to ignore and that is where the fun really begins.
You see, once your butt is nice and red, every little touch will provide an unavoidable stimulation to your backside. And because the spanking and overall ambiance in the moment is sexual in nature, that stimulation will end up being a form of sexual stimulation rather than a painful stimulation. Note that it'll still be somewhat painful, but you will be so sexually aroused by the sensation that you won't notice the pain in the moment. Even the slightest brush of his fingertips on your bare bottom will stimulate you in ways that you'd never imagined. During sex, these sensations combine with the actual pleasure being applied to your vagina (or anus) for an unparalleled pleasure. For example, if you are riding your man in the cowgirl position, every time you bounce down onto his torso, your behind will tingle with pleasure, just for a split second each time. The same occurs with doggy-style every time your man thrusts you from behind. Or anytime he grabs on to your behind, what would normally be nothing at all suddenly becomes an added stimulation as his hands make firm contact with your freshly spanked behind!
To put it simply, if you seriously want to get into hardcore spanking, note that it should not necessarily be the main event, but rather the part of foreplay that greatly enhances the rest of your sexual experience. And yes, it definitely requires some sacrifice to your body – I can't tell you how many times I went to work the next day barely being able to sit in my chair due to the lingering pain. But it was always totally worth it given the immense amount of pleasure that spanking provided me the night before. And luckily that pain wears off within 24 hours typically! But even if you don't want to get into hardcore spanking like me, you can still use it to turn-on your partner not only visually, but psychologically as well, helping to set the tone for a rougher style of sex. All in all, spanking is so underrated in my opinion, so hopefully my words will encourage some of you to experience spanking for yourself in the near future!